MBA (Sr. Executives) Program

The MBA Program (for Senior Executives) is an innovative offering for working executives and managers to enhance their education without interrupting their careers and equip themselves to meet the challenges of the new global business paradigms. The program offers an innovative and collaborative learning environment that fosters the development of management skills and techniques and on inculcation of sensitivity to real world issues, along with the ability to grow as 'leaders' and 'change agents'.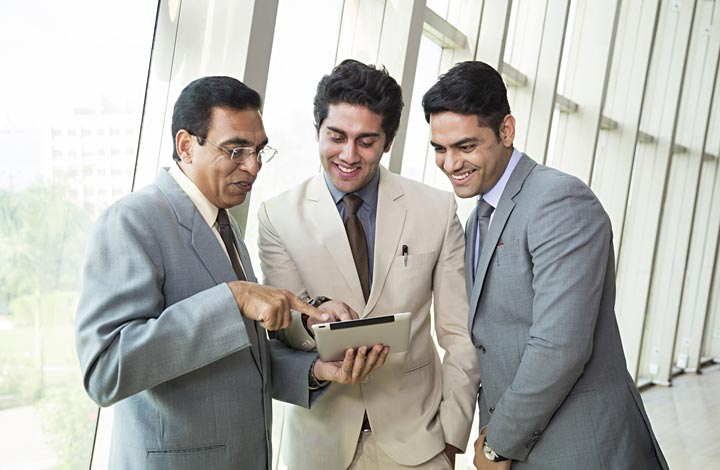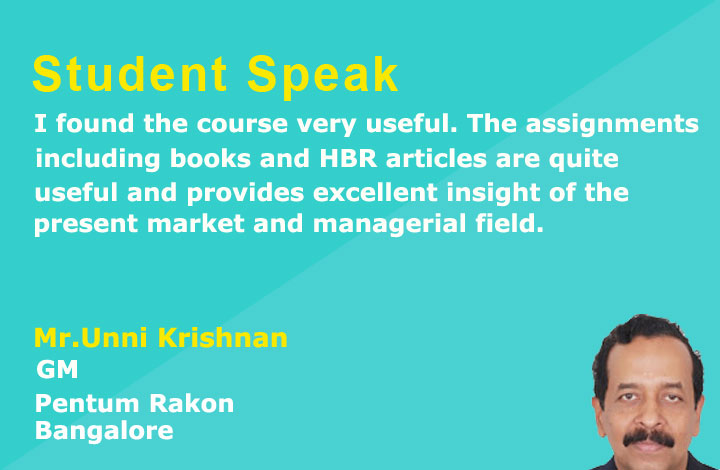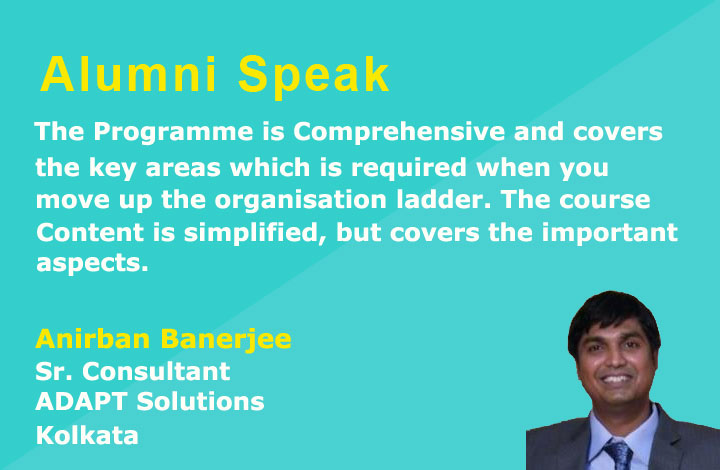 Eligibility:
• Graduates with 50% aggregate marks and medium of study in English.
• Six years of post qualification experience in functional areas of corporate organizations.
Duration:
Two years.
Medium of instruction:
English.
Validity of Enrollment
Serious students who devote time regularly for self-study and participate in the workshops can complete the program in 2 years. However, all students are required to complete the program within a period of four years from the date of enrollment.


Self-study
The University provides prescribed books specially designed for self-study.
Program structure
The program has 20 courses spread over two phases, as indicated in the following table:
Courses of Study
Phase-I
• Managerial Effectiveness
• Managerial Economics and Business Environment
• Managing the Value Chain
• Strategic Marketing
• Financial Insights
• Human Capital Management
• IT for Competitive Advantage
• Directed Independent Study - I
• Directed Independent Study - II
• Directed Independent Study – III
Phase-II
• Enterprise Performance Management
• Leadership and Entrepreneurship
• Managing Innovation and Change
• Strategic Excellence
• Business Ethics and Corporate Governance
• International Business
• M & A and Strategic Alliances
• Directed Independent Study – IV
• Directed Independent Study - V
• General Management - An Integrated Approach
The Learning Approach and Pedagogy for the program is unique and customized to the needs of the busy working professionals looking to leverage their learning from their current work experiences.
The CAT-XL Learning Framework
The Program uses a CAT-XL (Concepts, Applications, Trends – Experiential Learning) framework to enhance the learning process. This framework emphasizes experiential learning and involves the application of management strategies and theories to real-world situations.

Given her/his duration of work experience, it is assumed that the learner already possesses sufficient Knowledge about the basic concepts of management. This learning framework will facilitate the learner to explore the application of these management concepts in multiple real life situations – through own workplace experiences and situations as well as the Course Material provided to her/him during the duration of the Program.

Experiential learning is a process whereby knowledge is created through transformation of experience. Knowledge results from the process of grasping and transforming experience.




Course Material
Each of the 20 courses listed, will be supported by multiple learning inputs which will vary from types of Courses and will range from

• Brief concept notes on specific knowledge areas in the form of books.
• World-class case studies covering real corporate situations and the academic theory supporting there solution and management of those situations.
• Classics / Contemporary books in the field of management-written by experts at the cutting edge of management thinking and practices.
• Harvard Business Review management periodicals containing best in class writings on latest developments and case studies.

Pedagogy
The program aims to leverage the rich working experience of the students who are senior executives so as to facilitate problem-solving and decision-making thus help them become effective senior managers.

Learning in this program is enhanced by real-time interaction of students with peer groups guided by timely interventions by experienced faculty members of the university acting as facilitators.

Case studies included in the program cover both functional and applied concepts. Though theoretical aspects of management are available in standard textbooks, true value can only be achieved by analyzing the case studies. True learning experience only comes with understanding how the case scenario engages around concept/s and/or deviates from the concept/s as per the dictates of the context. Summation of engagement and deviation from the concept with appropriate justification leads to value-adding analysis of the case.

The program includes a set of international business best sellers that offer perspectives into various areas of management. Students develop understanding and appreciation of author's viewpoint on broad based aspects of management by perusing these best sellers. This helps in consolidating student's theoretical knowledge and help in linking this knowledge to schools of thought prescribed to by different authors, eventually triggering understanding and possible variations/deviations around concepts.

HBR journal as a courseware is unique and value adding inclusion in the program. Linking of the inputs from HBR articles and cases to organizational and business problems provides real-time value and help in finding effective solutions to contemporary workplace issues. This helps the student become an effective and value-focused manager.
Fee Schedule
Particulars

Fee (Rs.)

Admission Fee

10,000

Program Fee

1,40,000

Total

1,50,000

Option I (Lumpsum Payment)

1,50,000

Option II (EMI Facility)

Initial Payment (by Demand Draft/Credit Card)

20,000

Balance amount to be paid through 15 Equated Monthly Installments [EMIs] by Postdated Cheques

9,850
Note: Fee for evaluation of case assignments is payable separately as and when the student submits the assignments for evaluation.

No Refund
The amount once paid is not refundable under any circumstances, except in the case of rejected applications.

Right to amend rules
The University reserves the right to amend the rules and regulations wherever considered necessary and appropriate. Such amendments will be intimated to the students. Therefore, this publication and the descriptions contained herein are not to be construed as a contract binding the University to any specific policies. Possible changes include, but are not limited to curriculum and course content, passing requirements, eligibility criteria for examinations, fee schedule, refund policy, examination pattern, certification and designation, and such other matters as may be considered relevant.

Guidelines
The students are advised to read the following guidelines carefully before completing the Application Form for Enrollment and the Fee Remittance Form.

• The Application Forms should be filled in Capital Letters.
• Please respond to all the information sought.
• Additional sheets may be used, if necessary.
• Ensure that the Application Forms are signed.

Photocopies of certificates
• Photocopies of certificates regarding date of birth, educational qualifications, and experience certificates, and address proof shall be enclosed with the Application Form for Enrollment.
• Original Certificates should not be sent.

Enclosures
Please ensure that your Application contains the following enclosures.

• Application Form for Enrollment into the program (with recent color photograph affixed).
• Copies of Certificates of Date of Birth, educational qualifications / marks sheets and experience certificates.
• Xerox copy of Aadhar Card / Passport.
• Fee Remittance Form.
• Demand Draft/Credit Card Merchant Slip (wherever applicable) towards the payment.
• Students availing the EMI scheme are requested to enclose the postdated cheques in favor of "The ICFAI University, Tripura-Fee Collection A/c FLP" payable at Agartala along with the Fee Remittance Form.
• Students have to enclose their current business card (Original).

The completed Application Forms along with the required enclosures can be submitted or sent by speedpost/courier to:

The Admissions Officer:
The ICFAI University, Tripura,
Kamalghat, Mohanpur,
Agartala , Tripura.
Admission Policies and Guidelines
The Admission modalities are with reference to the distance learning MBA Program (for Senior Executives) offered by the ICFAI University, Tripura.

All applicants currently performing leadership/managerial/supervisory roles in business organizations with annual turnover exceeding Rs.20 crores are eligible for enrollment in the program.

Enrollment
Applications received from students are checked for the basic eligibility criteria and the eligible students are enrolled into the program under the distance learning mode.

No enrollment of foreign citizens
The admission into the distance learning program is not open to foreign citizens due to visa restrictions. Indian passport holders temporarily staying abroad can enroll subject to the decision by the Admissions Committee.

Rejected applications
If the applicants do not satisfy the eligibility criteria, the applications are returned to them along with all enclosures and the amount paid after deducting Rs. 1000. Such students are, however, permitted to apply again after they subsequently satisfy the eligibility criteria.

Remittance
The students are required to pay the fee as indicated in the Fee Schedule. The remittance can be done by way of Demand Draft or Credit Card. Demand Draft should be in favor of "The ICFAI University, Tripura-Fee Collection A/c FLP" payable at Agartala. For EMI facility please refer to Fee Schedule.

Evaluation
Students will be evaluated mainly on the basis of quality and depth of interactions with the peer groups. The participation will be closely monitored and guided by experienced faculty members of the university.

Apart from the interactions, Power Point Presentations submitted by the students and facilitation done by the Student for the last subject of the program will also be taken into consideration for evaluation.

Annual learning schedule of interactions in Phase I and Phase II will be placed in the website to enable students register for participation.

Award of degree
All candidates who successfully complete Phase I and Phase II of the program will be awarded the MBA degree by the ICFAI University, Tripura.

Pre-enrollment services
Online prospectus request, online enrolment, updates on events and chat facility.

Post-enrollment services
Facility for online payment, chat facility for all the enrolled students, important information on counseling classes schedule, updates on revision of curriculum, etc.

Secure Internet Payment Gateway
Students can enroll into the program by logging on to flp.iutripura.edu.in for filling the application form online and making the payment through Internet. Students can make the payment through the Credit Card issued by ICICI Bank and HDFC Bank or the VISA/MasterCard issued by any bank, through Secure Internet Payment Gateway. Net Banking facility is also available for customers of ICICI Bank, AXIS Bank, Yes Bank, Karnataka Bank, Corporation Bank, Oriental Bank of Commerce, South Indian Bank, Federal Bank, Indian Overseas Bank, Allahabad Bank, Bank of Bahrain & Kuwait and Dhanalaxmi Bank. Students may please note that payments relating to examinations will be accepted only through Secure Internet Payment Gateway.